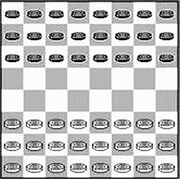 Shashki Vigmana ("Vigman's Checkers" - Шашки Вигмана) is a variant of Russian Checkers, which was invented by Vladimir Vigman (Latvia). The game is similar to Double-move Shashki.
The game has almost the same rules as Russian Checkers.
Differences are:
Each player has 24 pieces on both colors of the board and simultaneously plays two intermingled games.
Each player makes two moves per turn. Unless he can capture, he can choose if he plays one move on each color or two moves on the same color.
If he can capture after the first move, he must do so in the second move.
If a player cannot make a second move, he loses.
External Links
Edit